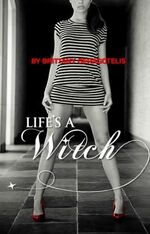 Link to the writer's Wattpad profile:
http://www.wattpad.com/user/BrittTheBookSlayer

Hadley Bishop is the descendant of the most powerful and famous witch of all time--and as the most popular girl at Astor High, it appears as if she's gotten all her best qualities. But when Hadley's mother is kidnapped and killed by the same evil coven that betrayed her great, great, great Grandmother during the Salem Witch Trials, Hadley swears to get rid of the witches once and for all. With the help of the other kids in her coven, the teens wage a war against Samuel Parris and his followers which results in a battle so epic--and dangerous--that the magical world will be changed forever.
Characters
Edit
Hadley Bishop - Popular, smart and talented, Hadley runs her school. When tragedy strikes her family's coven (the Cleri), she must take charge of the younger members and organize the group so that they are ready to fight back against the Parrishables (the bad coven) Bridget Bishop - Hadley's great-great-many-more-greats-grandmother, one of the most powerful witches of all time. Hadley has inherited her witching abilities as well as her strong determination. Rev. Samuel Parris - a witch himself in the time of the Salem Witch Trials, gives up those in his coven (The Cleri) to begin his own terrorizing coven.
Fun Facts
Edit