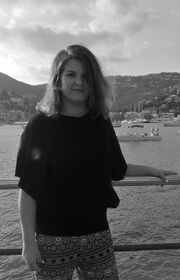 NikolinaDrum (*born 1997 in Lübeck) is (14,500 followers; as of 08/06/2015) one of the most successful German and international authors on Wattpad. She is also one of Wattpad's ambassadors for the German-speaking countries and works as a translator.
About the Author
Edit
Nikolina was born in December 1997 in Lübeck, Germany. She started her career posting her own short stories on Tumblr in 2012 and then became aware of Wattpad through a reader of her works. There, she has been active since early 2013.
Writing Career
Edit
Nikolinas stories have a great reach and some are already translated into numerous languages on Wattpad. Her books mostly cover love novels, fan fiction and horror stories. Privately she writes on a science fiction story called "Black Fire.". In addition to her own stories, she translates trendy fan fictions such as "Dark" and "Deranged" into her native language.
Stories on Wattpad
Edit
German Stories: - Tipps zum Erfolg auf Wattpad - Die Augen der Gefahr (German Version of The Danger's Eyes) - Der Griff des Verlangens (German Version of The Desire's Grasp) - Dark (Translation) - Deranged (Translation) - Million Dollars Between Us
English Stories: - The Undercover Nerd - The Haunted House - The Darkest Lover - The Poster - The Danger's Eyes - The Desire's Grasp - Million Dollars Between Us (English Version)
Web-Links
Edit
Wattpad: https://www.wattpad.com/user/NikolinaDrum Official Website: http://nikolinadrum.weebly.com/ Twitter: http://twitter.com/Nikolina_Drum Instagram: https://instagram.com/NikolinaDrum/