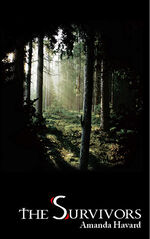 Link to the writer's Wattpad profile:
http://www.wattpad.com/user/AmandaHavard

In 1692, when witch trials gripped the community of Salem, Massachusetts, twenty-six children were accused as witches, exiled, and left for dead. Fourteen of them survived. The Survivors is the first installment of the tantalizing tales of the fourteen ill-fated Survivors and their descendants, who have been content in hiding for over three centuries. Isolated on a Montana mountainside, only Sadie, the rogue daughter, dares to abandon the family's sacred hiding place. But no matter how far Sadie runs, something always pulls her back. On a muggy summer night in Tennessee, she witnesses a shocking scene that will change her life forever. It is the first in a sequence of events that will drag her from the human world she's sought to belong to for over a century and send her back to her Puritanical family and into an uncertain future filled with cunning witches, mysterious nosferatu shape-shifters, dangerous eretica and vieczy vampires, millennia-old mythology, and the search for her own mortality. After all... HOW DO YOU KILL A SURVIVOR?
Characters
Edit
Fun Facts
Edit