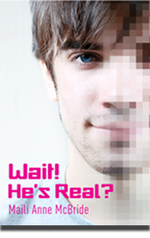 Link to the writer's Wattpad profile:
http://www.wattpad.com/1132746-wait-he%27s-real-available-in-paperback-september

This is Avery's story. Her friends have challenged her to get a boyfriend. She failed. Instead of admitting her failure, she made up a boyfriend. Garrett Cross. He is perfect and everyone is dying to meet her new man. After a month of chaos and lies and pretending to be him, she meets the real Garrett when he is transferred to her school...Is he the man she thought she made up? Will he fall in love with her too?
Characters
Edit
Adam Levine as Jace Allen Michaels Garrett Hedlund as Garrett Cross
Fun Facts
Edit
Published September 1, 2011 by Sourced Media Books