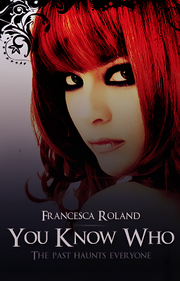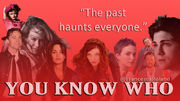 You Know Who, a Wattpad book by Francesca Roland, follows the love story of a super villain haunted by her own traumatic past.
Roland uses a lot of personal experience in this book, highlighting many events in her own life, and putting a lot of herself in the characters she creates.
Carilynn de Angelus opens the story by kidnapping a security guard. Liam Everett is the security guard and he is taken to Carilynn's crime agency, Millennium Corporation. There he falls in love with Carilynn and helps start World War 4 on the side. The war is over quickly, but not quickly enough for Carilynn's past to come back in the form of a figure (Sean Riverside) whom she really wished was not in her life. Everett spends a steamy night with Carilynn, and they try and regain control of the Corporation as it has been thrown into anarchy while they are away. Carilynn faints and finds out a surprise in the hospital, and gets kidnapped by Sean Riverside afterwards. Sean tortures Carilynn, Liam sinks into grief, and Liam heads his own rescue mission after the Corporation turns on him when a cruel rumour is spread about him. 
Read the book to find out more.
http://www.wattpad.com/story/6752981-you-know-who
Scarlett Johansson as Carilynn de Angelus
Logan Lerman as Liam Everett
Tom Hiddleston as Sean Riverside
Natalie Portman as Elizabeth Ross
Joel Edgerton as David Ross
Megan Fox as Kylie Calderon
Helena Bonham Carter as Jeanette Starvich
Nicole Kidman as Mercedes Jameson
Leonardo DiCaprio as Ryan Burden
http://www.wattpad.com/story/6752981-you-know-who
And that is You Know Who by Francesca Roland!
http://www.wattpad.com/story/6752981-you-know-who